Located in Fairmont Singapore, Prego has a spacious capacity and features an array of Italian food which will not disappoint diners who are seeking out truly authentic and traditional Italian food. Decorations such as the Parmesan wheel, hanging sausages, wooden tables and carts, coupled with the Italian service and dining styles are bound to bring all diners a legitimately Italian experience. With natural lighting over a warm tone throughout the premise, Prego restaurant depicts a relax and trendy atmosphere which in turn makes it a perfect place for a romantic date or a relaxing family brunch.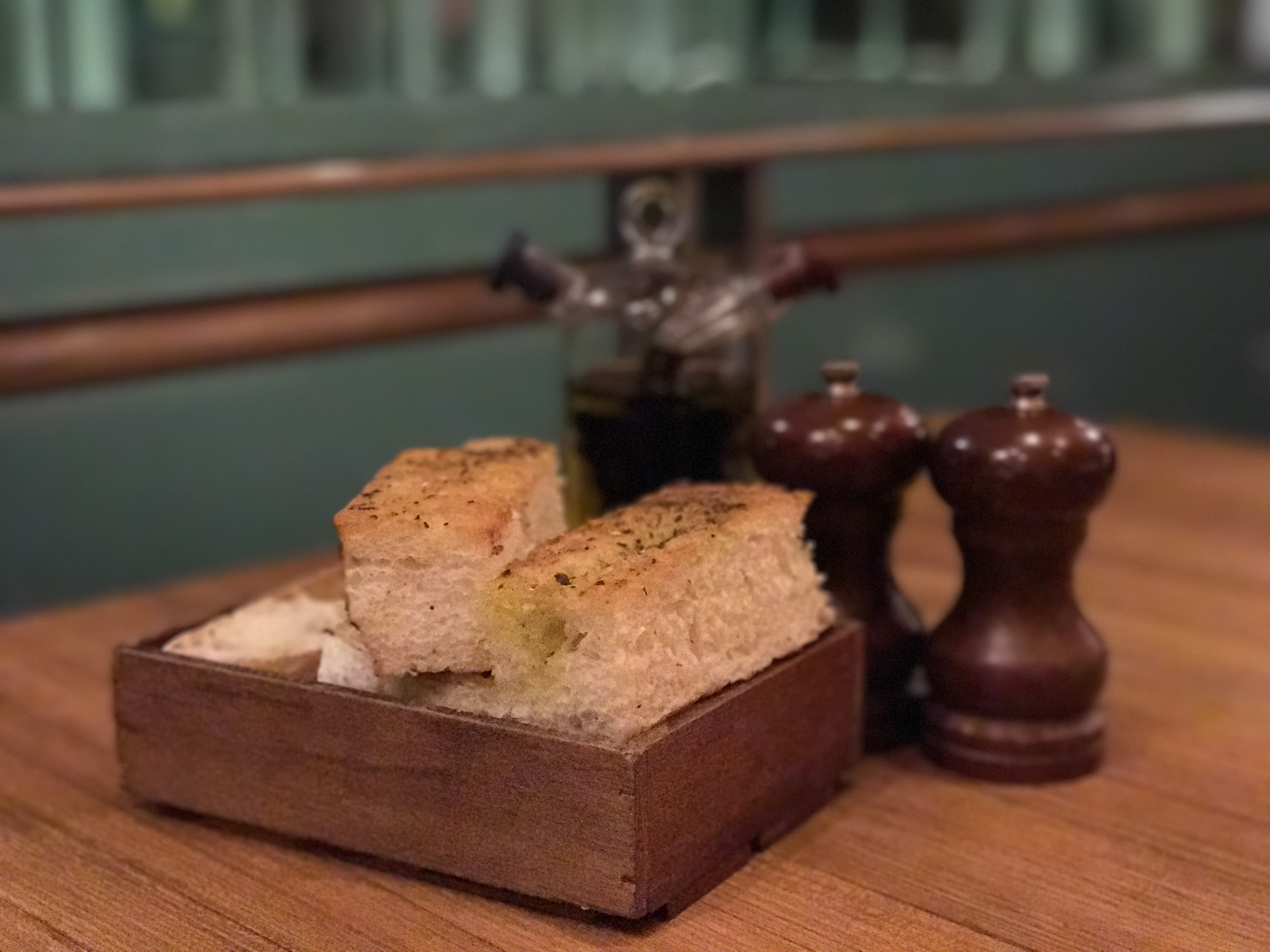 Setting your meal off to a good start with excellent antipastis Gamberi "Rosso di Mazzara" a stunning prawn carpaccio dish using only fresh imported prawns from Italy, expertly sliced and plated with stracciatella (a cheese produced from Italian buffalo milk in the province of Foggia), tomato jam, basil and crumbled ciabatta together with Polpo alla Griglia, a simple yet extremely delicious course of char grilled octopus served with potatoes, fennel and salsa verde a classic "green sauce" made with parsley, olive oil, capers, anchovies, vinegar, lemon juice, garlic, and lemon zest complimenting well with the smokiness of the char grilled octopus.
Pastas and Pizzas are essential in any Italian restaurant's menu and Prego's does this exceptionally well in Cappellacci di Zucca con Ragu Bianco, cappellacci stuffed with soft sweet yet savoury butternut pumpkin in a white bolognese sauce and Cavatelli con Nduja, not so common cavatelli cooked with flavourful nduja sausage, red onion, pomodoro fresco and percorino cheese adding a sharp an salty touch to complete the dish.
Apart from the A La Carte menu, a special mention for the Italian Berlucchi Sunday Brunch which is served every Sunday from 12pm to 3pm. The Italian theme is profoundly notable with the Live Pasta Crafting and Risotto Bar whereby pasta is prepared a la minute. Diners may choose their preferred type of pasta, sauce and toppings before handing over for the chef to cook (do note that certain ingredients may be seasonal, for example the truffle cream sauce). Such personalised service is absolutely sincere and genuine.
Meat lovers will definitely be amazed by the Meat and Seafood Grill Station whereby the meat is grilled and freshly served to the table. Highly recommended would be the tender and juicy Beef Sirloin with Rosemary or the fine and fresh Salmon Fillet with Dill & Lemon.
Be awed by the seafood on ice counter which features all-time favourite fresh shucked seasonal oysters and the ready-to-eat poached Alaskan crab leg, as well as the marinated fresh tiger prawns, mussels and scallops. Assortment of Italian cheeses are available Ricotta, Burrata and Mozzarella, all to satisfy diners with different preferences for cheese.
As for desserts, diners can expect traditional Italian desserts such as the Tiramisu, Panna Cotta, Chocolate Salame and Cannoli. The dessert station also features a Gelato Cart that allows diners to create their own gelato with a selection of flavours in a cone.
---
Address: 80 Bras Basah Road,  Singapore 189560
Hours of Operation
Breakfast: Daily – 6:00am to 11:00am
Deli: Daily – 6:30am to 10:30pm
Lunch: Monday to Saturday – 12:00pm to 2:30pm
Italian Berlucchi Sunday brunch: Sunday – 12:00pm to 3:00pm
Early Bird Dinner: Daily – 5:00pm to 6:00pm
Ala Carte Dinner: Daily – 6:00pm to 10:30pm
Reservations: +65 6431 6156 or dining.singapore@fairmont.com.