Located just 15 minutes away from Siem Reap International Airport and 20 minutes' drive from the famed Angkor temples, Navutu Dreams Resort & Wellness Retreat (or commonly known as Navutu Dreams) is a ideal destination for all kinds of jet setters and globetrotters alike, be it a romantic couple's getaway or the annual family holiday. As the only wellness retreat in the whole of Siem Reap, Navutu Dreams features a 18-meter Freshwater Sports Pool and two 120 square meter Lounge Pools (a Saltwater Lounge Pool and a child-friendly Lagoon Style Pool), truly a hidden gem spreading over a hectare of lush well manicured greenery that promises a legitimate and pure cultural experience in a modern yet comfortable setting.
Aside from that, the resort also organises a variety of tours such as to popular temples in and out of the city for guests to soak in the ancient Khmer culture, local farm tours where one can pick their own produce for an educationally fun in house cooking class and even a sunrise escapade for meditation and sound healing on top of a hill. One of the joys in Navutu Dreams has to be the amazing staff who are brilliantly trained and take much pride in their respective roles within the resort. The sincerity and warmth extends from the front desk staff to even the gardeners who goes around always with a friendly smile on their faces.
Rooms
Boasting 18 trendy Explorer Rooms located within a private garden, guests can expect a graceful and stylish atmosphere with lovely natural landscape or lagoon-style pool views. There are also 6 cavernous and elegant Grand Tour Rooms with lap-pool view and beautiful garden view, plus access to the rooftop balcony for an exotic dinner or to simply enjoy the vase horizon over a cocktail or two, an excellent choice for the romantic couples.
The most notable yet would have to be the 4 exclusive Grand Suite, each of them spaciously and harmoniously located in the 2 gorgeous pavilions, most suitable for family or big groups. Each Grand Suite features minimalist and classy room design, a huge bathtub with private garden view, walk-in wardrobe, wooden floors and a tremendously spacious balcony to provide guests with a luxurious and relaxing experience. Unique Khmer and Laotian hand-made art pieces are also exhibited in the room to further enhance a purely local experience. With all the specialised and individualised components within the Grand Suite, guests are bound for enjoyment while being treated like a king or queen.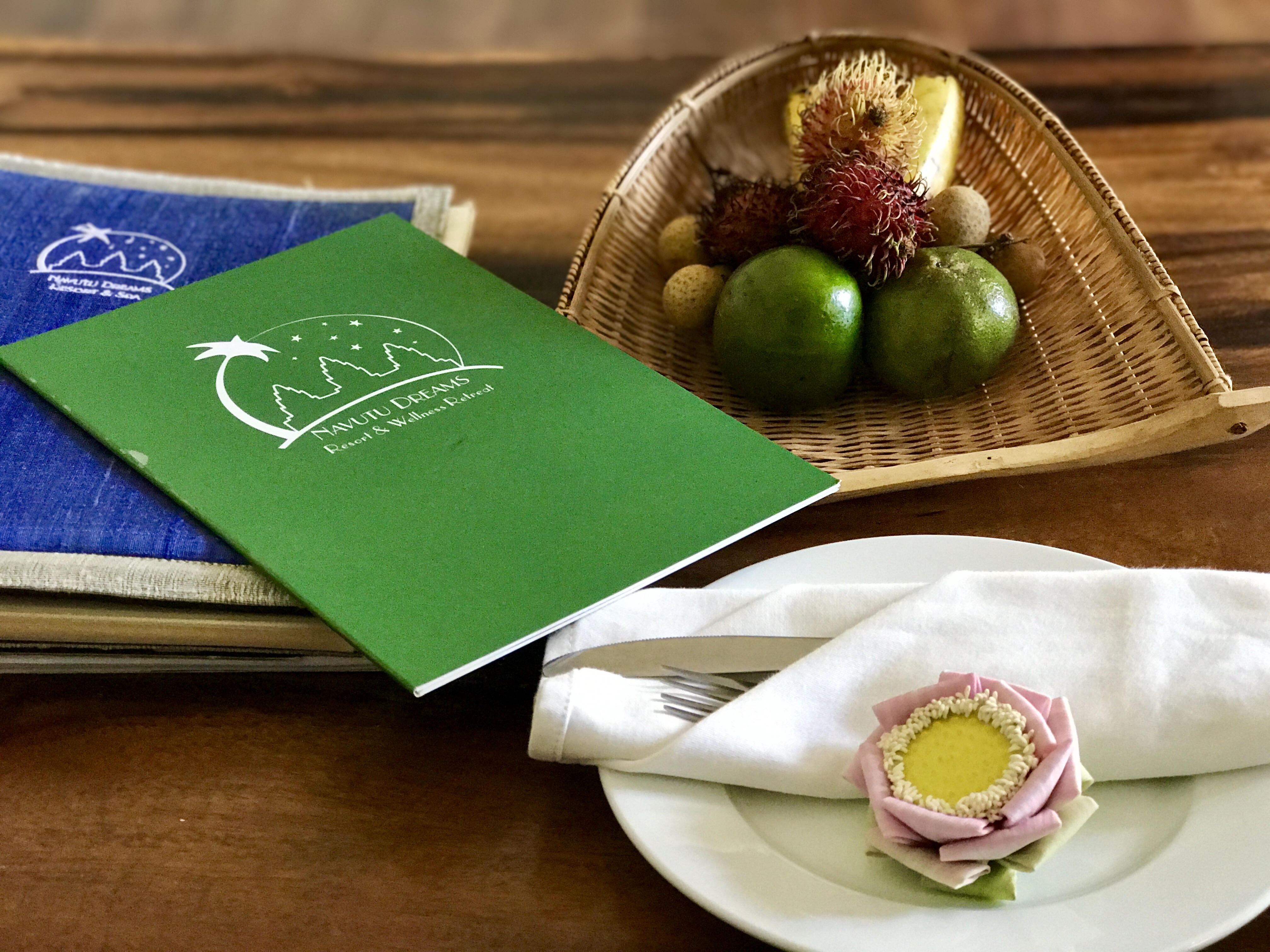 Dining
As the name suggest, "Niam Niam" means "Eat Eat" in the Khmer language, aroused your senses with a romantic dinner by the poolside or a heartwarming sunset view at the terraces, serving an array of local and international dishes with strong emphasis on Italian cuisine. Healthy and right eating are core values in the construction of the menu, keeping all kinds of diners in mind. Plating is as equally important as the flavours here evident in every dish with mesmerising use of local edible flowers and herbs.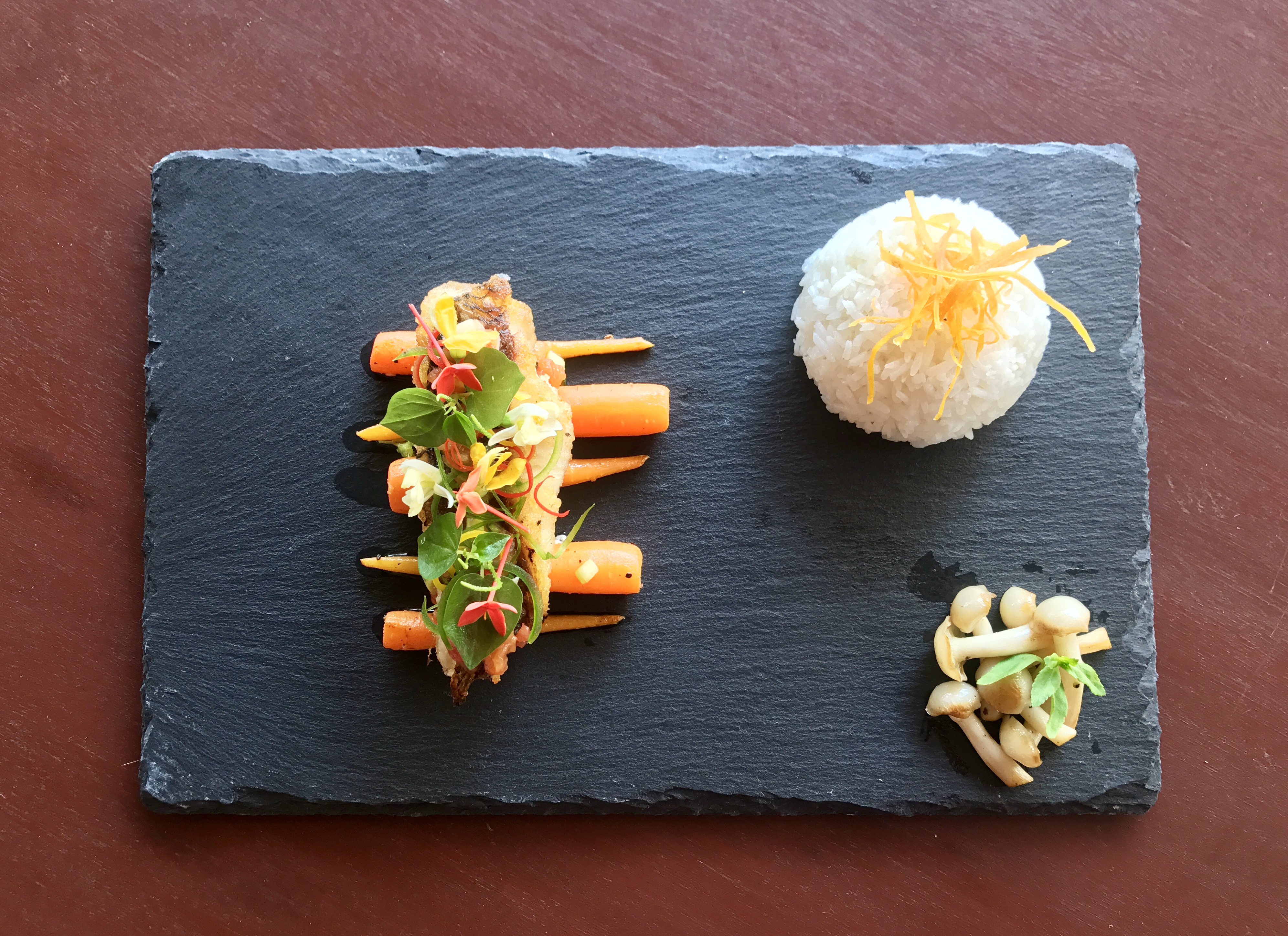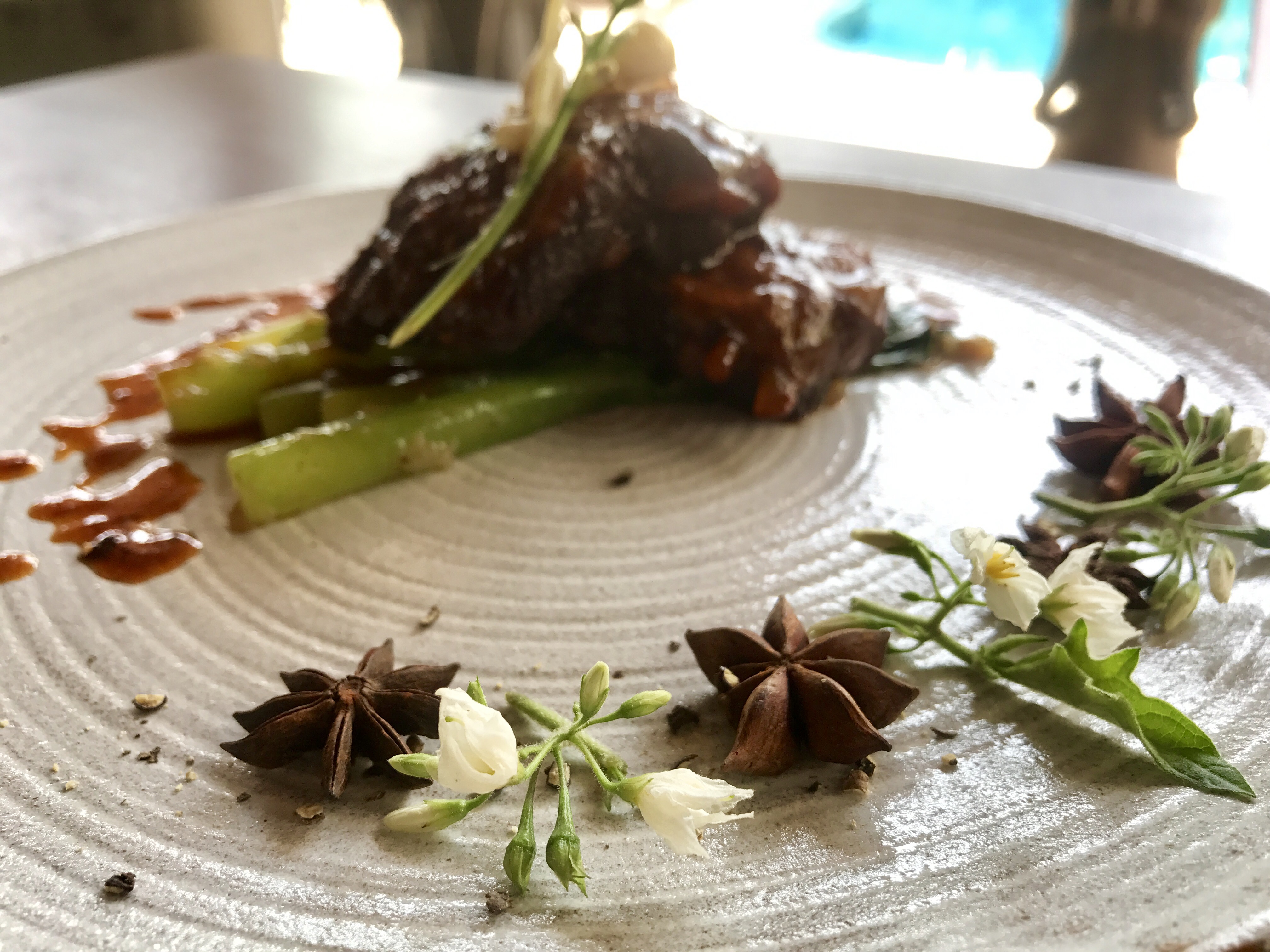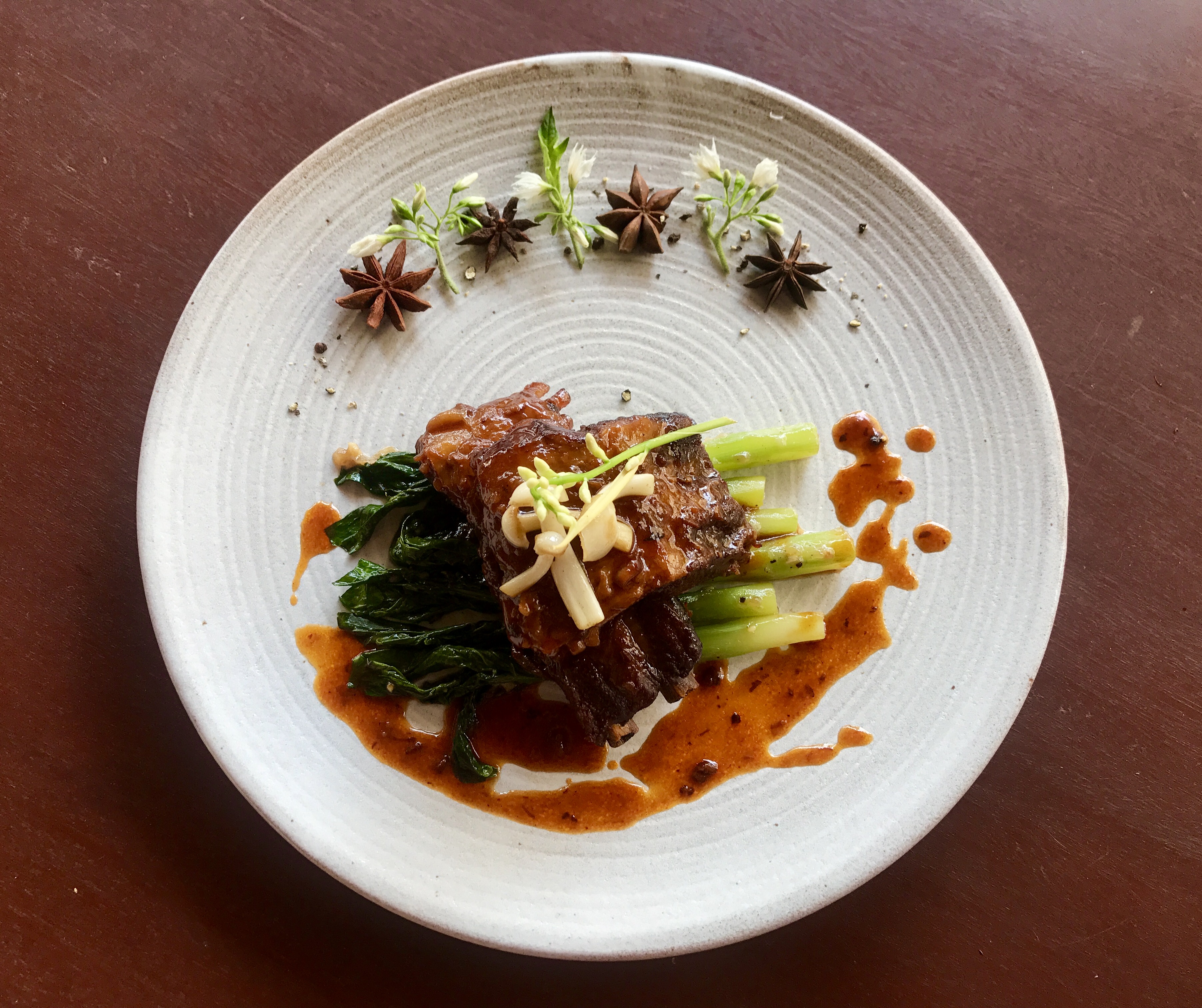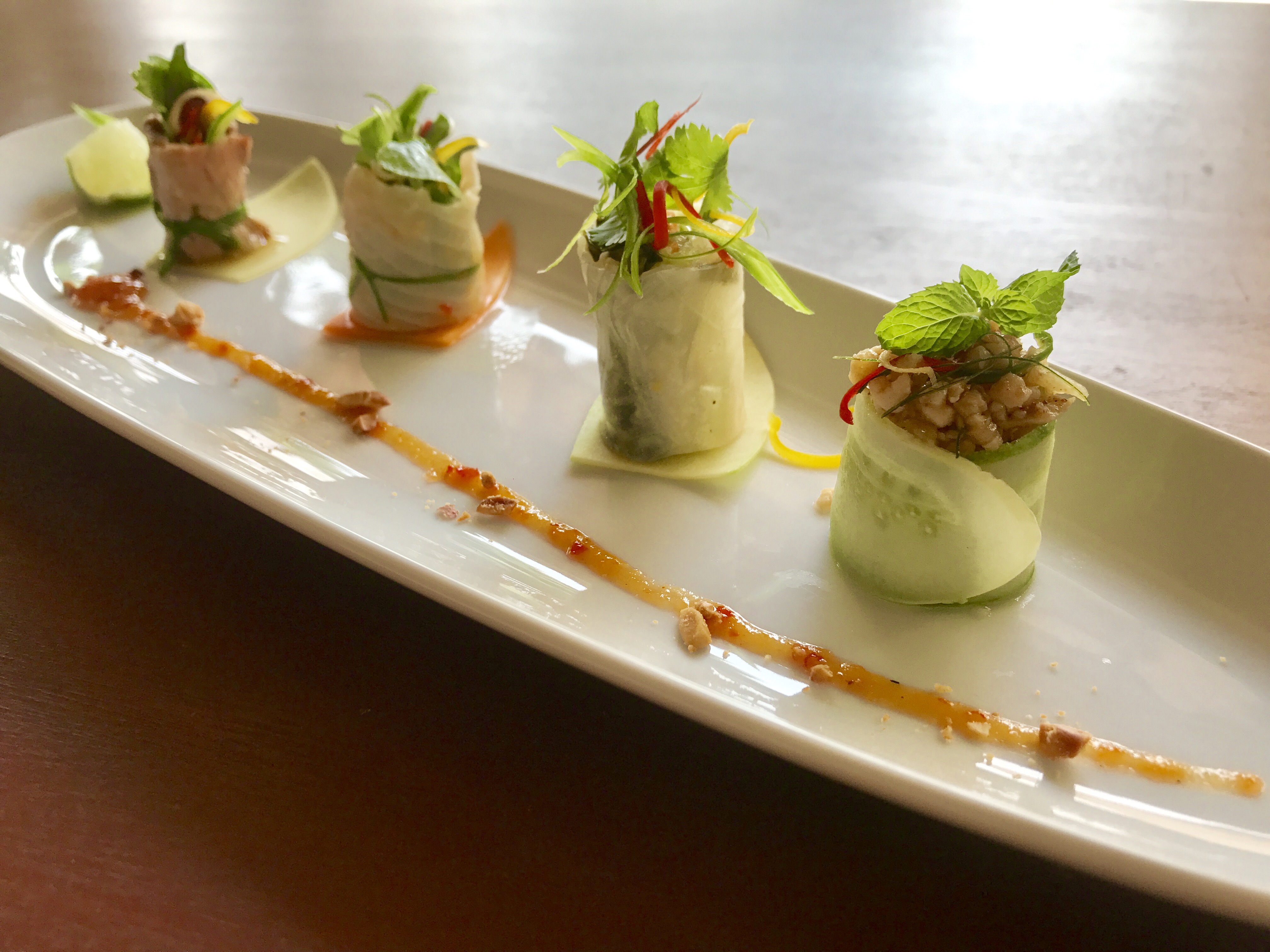 For guests with vegetarian preferences, Niam Niam has an interesting selection of vegetarian menus mixing local ingredients such as lemongrass, sweet basil and rice paddy herbs with your meal, both a sight to behold and an absolute surprise to your taste buds. Cooking class are well planned by the chef who leads attendees to a farm tour with possible buffalo cart ride option for that added countryside experience. Spend a lovely morning learning from chef the intriguing and unique local produce before selecting some of them to be cooked back at the resort. Enjoy your self cook dishes after the class before being awarded with a certificate of participation, a memorable treat to cook up a storm in your very own kitchen back home with your new found skills.
Spa
For the wellness of body, mind and soul, the dedicated team of masseurs and wellness experts promises to bring the ultimate revitalisation and relaxation to every guest through a series of signature spa programs, ranging from a selection of daily yoga classes (Hatha, Vinyasa, Ashtanga and Meditation & Gentle Flow) to traditional Khmer and Thai massage, cupping and acupuncture, as well as the refreshing and detoxifying facials, scrubs and wraps.
Highly recommended for ladies would be the wonderful Lady in Paradise treatment, which includes a refreshing facial, an organic wrap and a relieving massage. The gentlemen can go for the Royal Facial for Man, which features a stimulating cleansing and exfoliating of the face, a gentle massage and finally an uplifting white mud mask and cucumber mask. Only high quality and organic ingredients are used just as nature intended.
---
Address: Navutu Rd, Krong Siem Reap 17251, Cambodia
Tel: 855 (0) 63964864 | M: +855 (0) 92141694
Email: reservations@navutudreams.com
Website: www.navutudreams.com