Luxuriously classy and homely yet infused with a sense of quirky outlandishness, JW Marriott Hotel Singapore South Beach – officially opened in March 2017 – sits primely in Singapore's heart of entertainment and commerce, designed by renowned designer Philippe Starck for interior and award-winning British architects Foster & Partners. Fitted with six hundred and thirty four rooms, two pools, an exquisite spa, famed contemporary Japanese restaurant Akira Back and a myriad of food & beverage choices, JW Marriott Singapore South Beach is truly a place where modern art meets lavish comfort.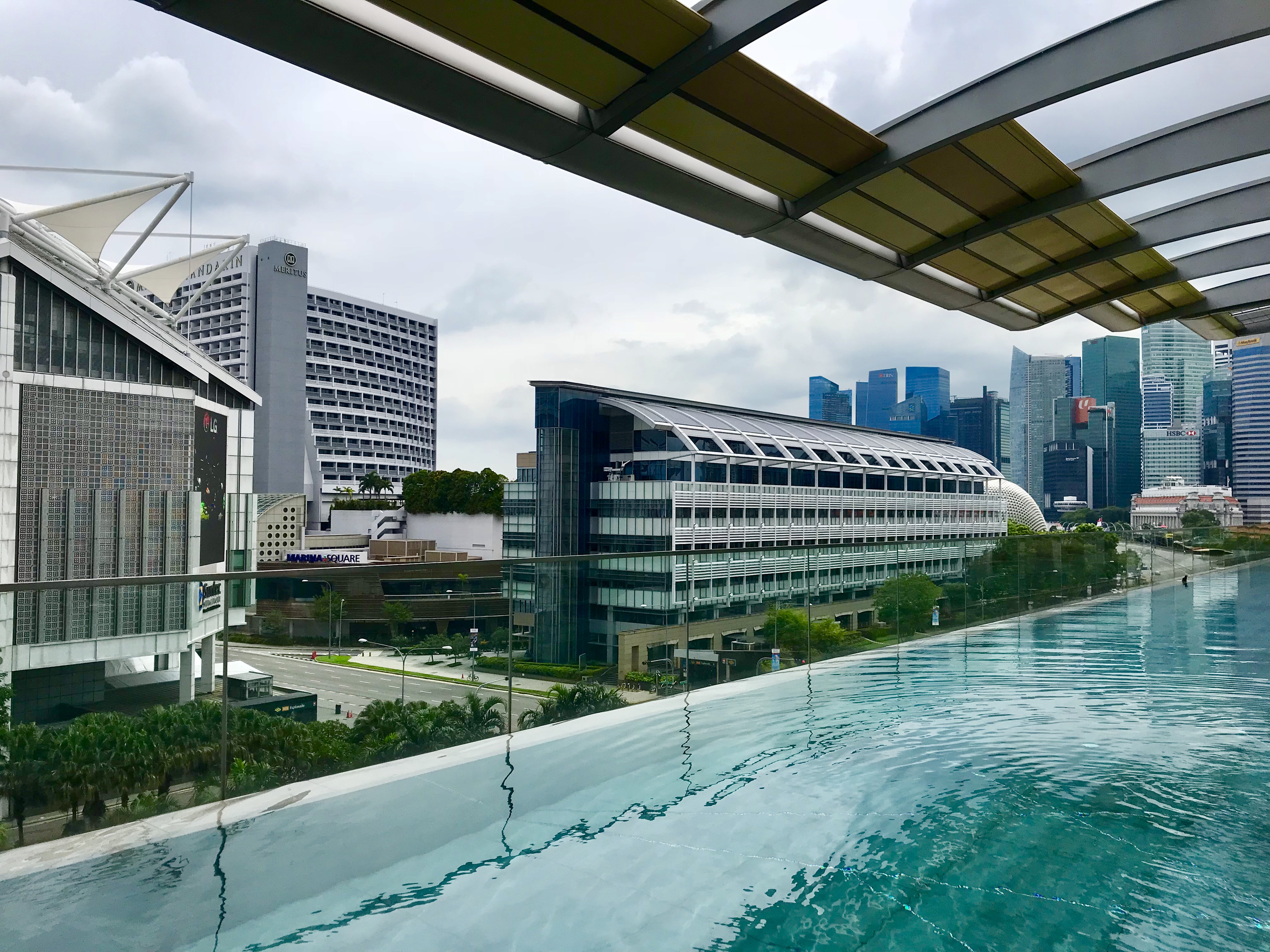 Greeted by a seven-metre-tall LED installation showcasing a psychedelic canvas of colours designed by South Korean artist Lee Lee Nam, hotel guests then enter the reception lobby decked in one-of-a-kind furnishings and art pieces by acclaimed regional and international artists, including a sculpture by Fernando Botero named Donna a Cavallo among many others.
An eye-opening experience awaits within the guest lifts where a shuffle of red, green and blue lights illuminates three different marine designs on its walls, designed by Milan-based art and design duo Carnovsky. As a nod to the hotel's attention to every detail in the experience, the wait in the lift becomes barely noticeable.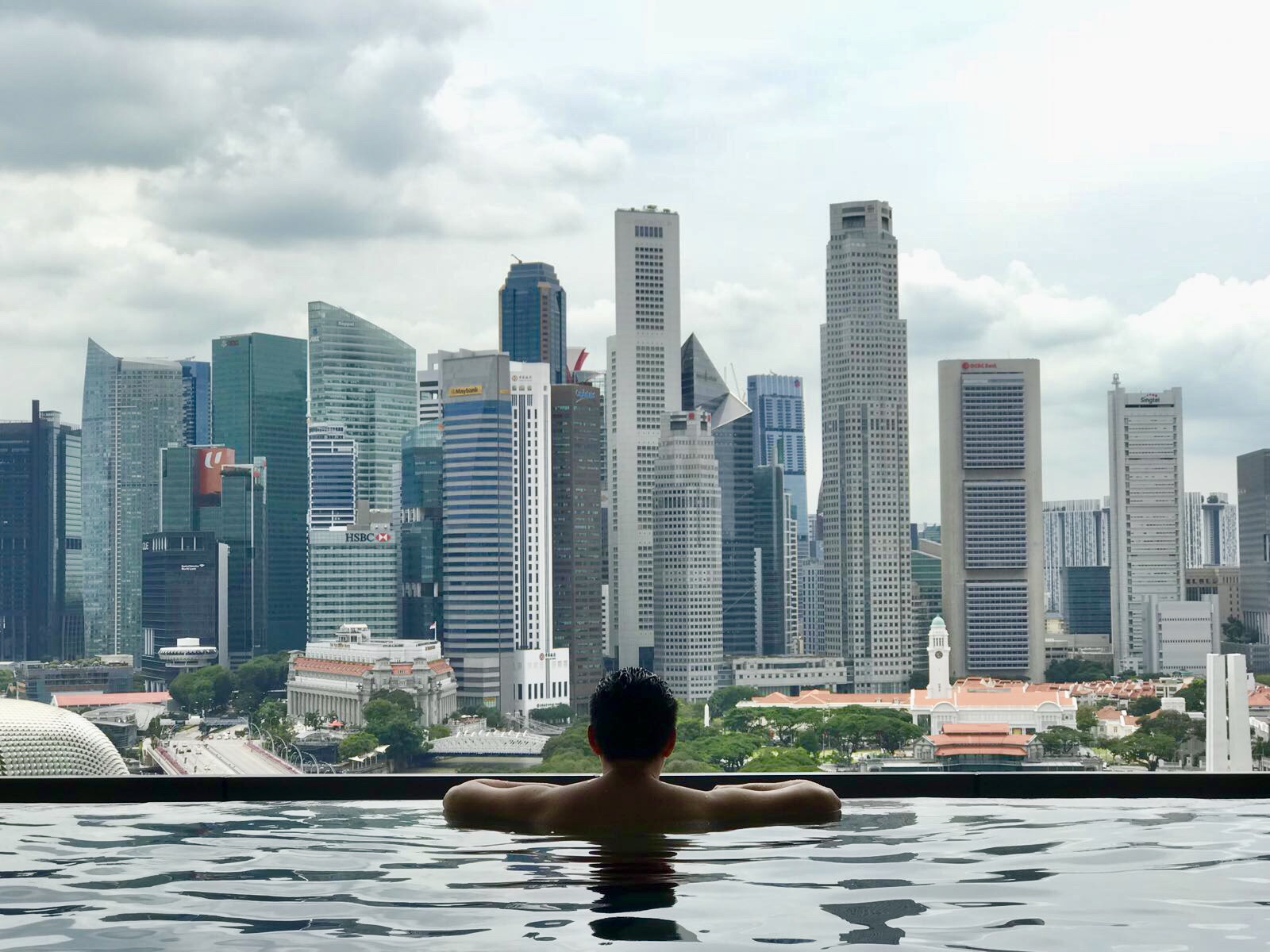 For a relaxing, fun filled soak and swim, guests are spoilt for choice at the hotel's two infinity pools boasting unfettered views of the surroundings, two sky gardens and a twenty four-hour fitness centre at Flow18.
Room
Upon arriving at the room, guests are welcomed by either a view towards Marina Bay or one of the cityscape. Each of the rooms and suites come with a full array of modern amenities and smart technology like the Internet Protocol Television System (IPTV) that makes a host of entertainment options available, a Wi-Fi enabled mobile phone with which guests can receive calls anywhere within the hotel.
Every room features extremely comfortable and luxurious bedding and decadent linens to ensure a good rest irregardless the time of day and the hotel even has 'boyfriend shirts', facial steamer, hair straightener and other accessories for female travellers who stays in the special "Ladies' Rooms" on a dedicated floor.
Dining
There is no lack of food and drink choices at the hotel's nine dining options that include Akira Back – an award-winning contemporary Japanese restaurant with Korean accents and worldwide influences, Beach Road Kitchen – an all-day restaurant featuring a global cuisine, Court Martial Bar and Media Bar for cocktail-sipping in refined bar settings, and Tonic – a bar dedicated to all things gin.
Highly popular is Beach Road Kitchen's Sunday brunch with its enormous spread of fresh seafood including lobsters, oysters, crabs, mussels, clams among many others and live noodle station. Don't miss the specialty pizzas and cheese sections that will please even the most discerning buffet buffs in us. Free flow of champagne and wines are available at an additional charge.
To top it all up, guests can also pay a visit to the Concierge Library in the hotel lobby to feed their curiosity, or the Activity Table that offers cultural program like cheese and wine tastings, coffee experiences, culinary events and many others.
Spa
Guests who fancy a truly indulgent experience should pay a visit to Spa by JW that seeks to re-imagine the spa experience based on four benefit states (Renew, Indulge, Calm, Invigorate) with its ten treatment rooms, including two private and two express treatment suites.
Using only the highest quality products by Aromatherapy Associates made from the finest ingredients from around the world, guests will be in for a treat no matter the treatment selected from an extensive spa menu ranging from facials, scrubs, wraps, manicures/pedicures to the amazing massages.
Must try before the start of your spa session are the Vitality Pool (Jacuzzi), as well as sauna and steam rooms equipped with Starpool systems that incorporate colour, aroma and music therapy to prep one's mind and body. Relax after your treatments at the pampering lounges with a selection of teas and 'zero-gravity' inversion therapy chairs that further enhances therapeutic spinal relief especially good for those who spend many hours in-front of a desk.
---
ADDRESS:
30 Beach Road, Access via Nicoll Highway, 189763
PHONE:
6818 1888
WEBSITE:
http://www.marriott.com/hotels/travel/sinjw-jw-marriott-hotel-singapore-south-beach/