The grand spiral stairway leading up to Golden Peony, makes a fitting landing for the award-winning Cantonese restaurant. At the entrance, be greeted by the attentive staff who will expeditiously lead you to your table. The classy décor and warm welcome made for a great first impression.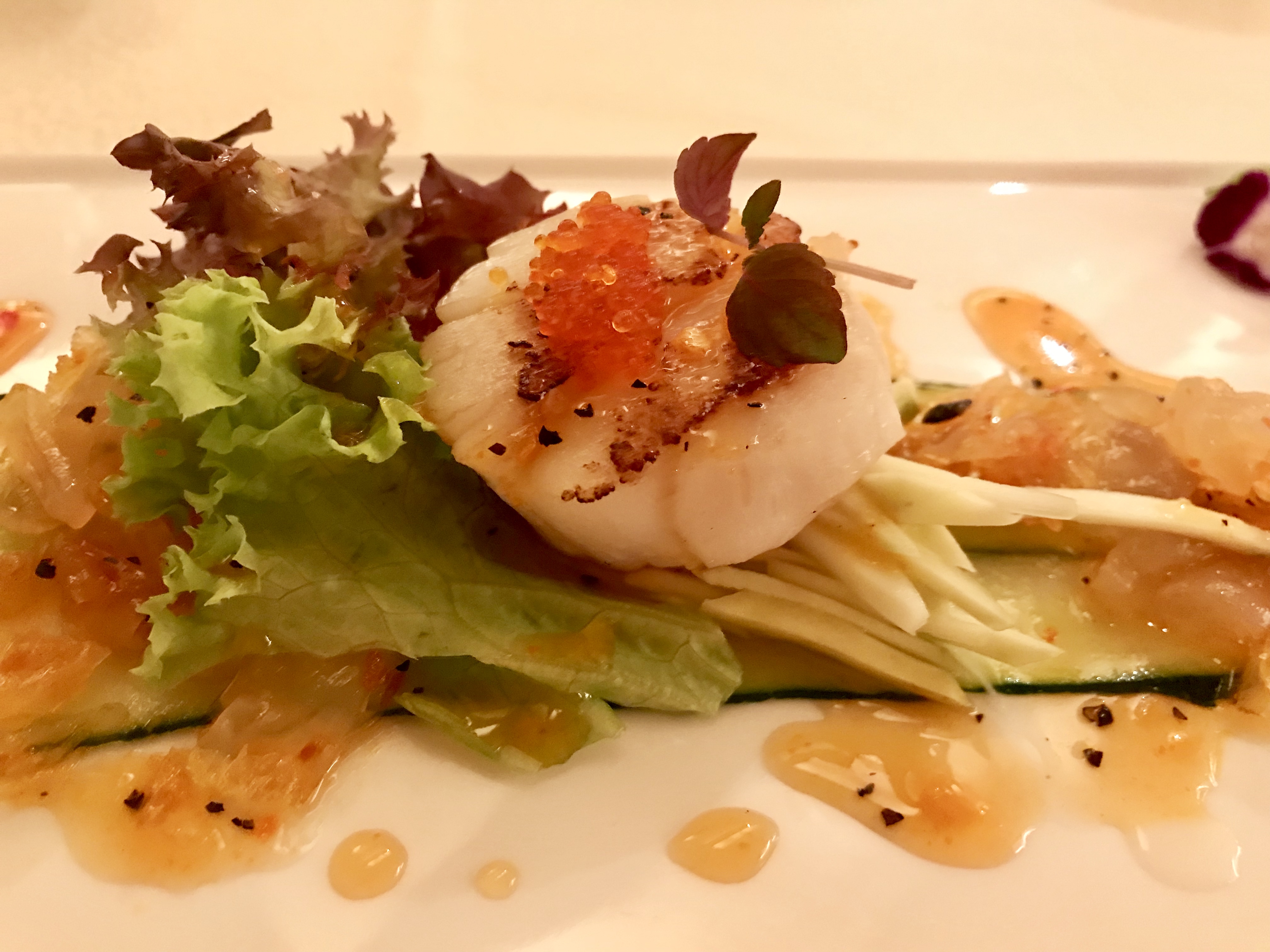 Highly recommended would be the degustation menu consisting of Chef Ku Keung's signature dishes. The six-course menu, starting with a palate-pleasing opener. The Pan-seared New Bedford Scallops and Jelly Fish is paired with a refreshing drizzle of passion fruit and sweet chilli sauce. The scallop is enormous in size and beautifully plated on a bed of cucumber slices.
A fine Cantonese dinner would not be complete without a warm wholesome broth. At Golden Peony, the otherwise humble soup is elevated to a haute culinary masterpiece. From its creative presentation to its delicate flavour, the Double-boiled Seafood Soup in Mini Pumpkin is a medley of the freshest shrimp and seafood, sweet goji berries adds to the perfect balance of heart-warming herbal notes.
The Baked Sea Perch was done to stellar execution. Lightly seared around the corners and sides, the moist texture on the inside of the fillet locked in the sweet buttery flavour of this beautiful fish. It is complimented with a full-bodied red wine reduction and a hint of balsamic, adding a European flair to this dish. A wonderful pairing to say the least.
The pièce de résistance came in the form of the Roast Duck with Parma Ham, wrapped in a Homemade Pancake. Multi-dimensional, it had an intricate layering of sweet and savory flavours, crisp on first bite (because of the clever addition of crispy beancurd skin and pineapple) and succulent to the last morsel.
Singaporean diners who love their 'bak kut teh' and 'sam chian bak', would definitely not be disappointed with the chef's rendition of the 'Dong Po' Pork Belly. The meat is simmered for hours to a melt-in-your mouth tenderness, oozing with robust flavour, without any hint of greasiness.
One would naturally assume any dessert made of avocado to end up being heavy. Ending this dinner on a surprisingly harmonious balance, the Chilled Cream of Avocado dessert was whipped light, with a mild natural sweetness. The dessert featured a Sweet Potato Pastry shaped in a dainty swan, thanks to the confectionery genius at Golden Peony.
---
ADDRESS:
2 Temasek Blvd, Singapore 038982
PHONE: +65 6334 8888
WEBSITE: http://conradhotels3.hilton.com/en/hotels/singapore/conrad-centennial-singapore-SINCICI/index.html?WT.mc_id=zELWAKN0APAC1CI2DMH3LocalSearch4DGGenericx6SINCICI