With a picture perfect panoramic view of the Singapore skyline and the climactic wooden décor, Swissotel presents to you the famed Equinox restaurant. Located on the 70th floor, 226 metres above the ground, Equinox restaurant aims to bring its diners an experience like no other. Be seated at any table and look through the gigantic glass windows, Equinox restaurant easily offers the best view of the Singapore skyline, and on certain clear days, diners may expect to see parts of Indonesia and Malaysia. Definitely one of the best venue in City Hall area suited for any occasion from the business lunch to that special anniversary.
Directed by Chef De Cuisine Paul Hallett from Wales, Equinox presents a variety of Modern European cuisine. Serving weekdays and Saturday buffet lunch, the daily A La Carte and set dinner and the popular Champagne Sunday Brunch to match all kinds of diners taste and requirements.
Outstanding starters from the A La Carte menu are Wagyu Tataki, thinly sliced beef with bonito turnips, fresh watercress, generous amount of sliced black truffle, drizzled with a light citrus ponzu dressing and the beautifully plated Octopus Carpaccio topped with smoked paprika, piquillo peppers, lemon and black radish. Not to be missed for mains are the chef's signature Duck Breast well cooked with barbeque squash, slow-cooked onion, hazelnut dukkah for that added texture in duck jus and tender melt in your mouth Angus Beef Short Rib served with creamy barley risotto, roasted sour plum, mushroom ketchup a memorable dish full of bold flavours.
For brunch seafood lovers may expect a line-up of the freshest seafood such as the Boston lobster, international oysters, crabs, prawns, and an array of Japanese sashimi. On top of that, a weekly special at the carving station feature dishes such as salt-crust baked sea bass served with wasabi butter, Angus beef rib with red wine and Béarnaise sauce, roasted scallops and salt cod croquetas, as well as pull pork toast and salmon wellington.
Like any other meals, Sunday brunch at Equinox ends with an extensive dessert selection that is bound to leave diners with a smile on their faces. Desserts include sorbet, smoothies, cakes, pastries, scones, muffins, macarons, soft serve ice cream, chocolate pralines and dessert shooters. A must-try would be the enticing Matcha Choux Puff with rich green tea filling.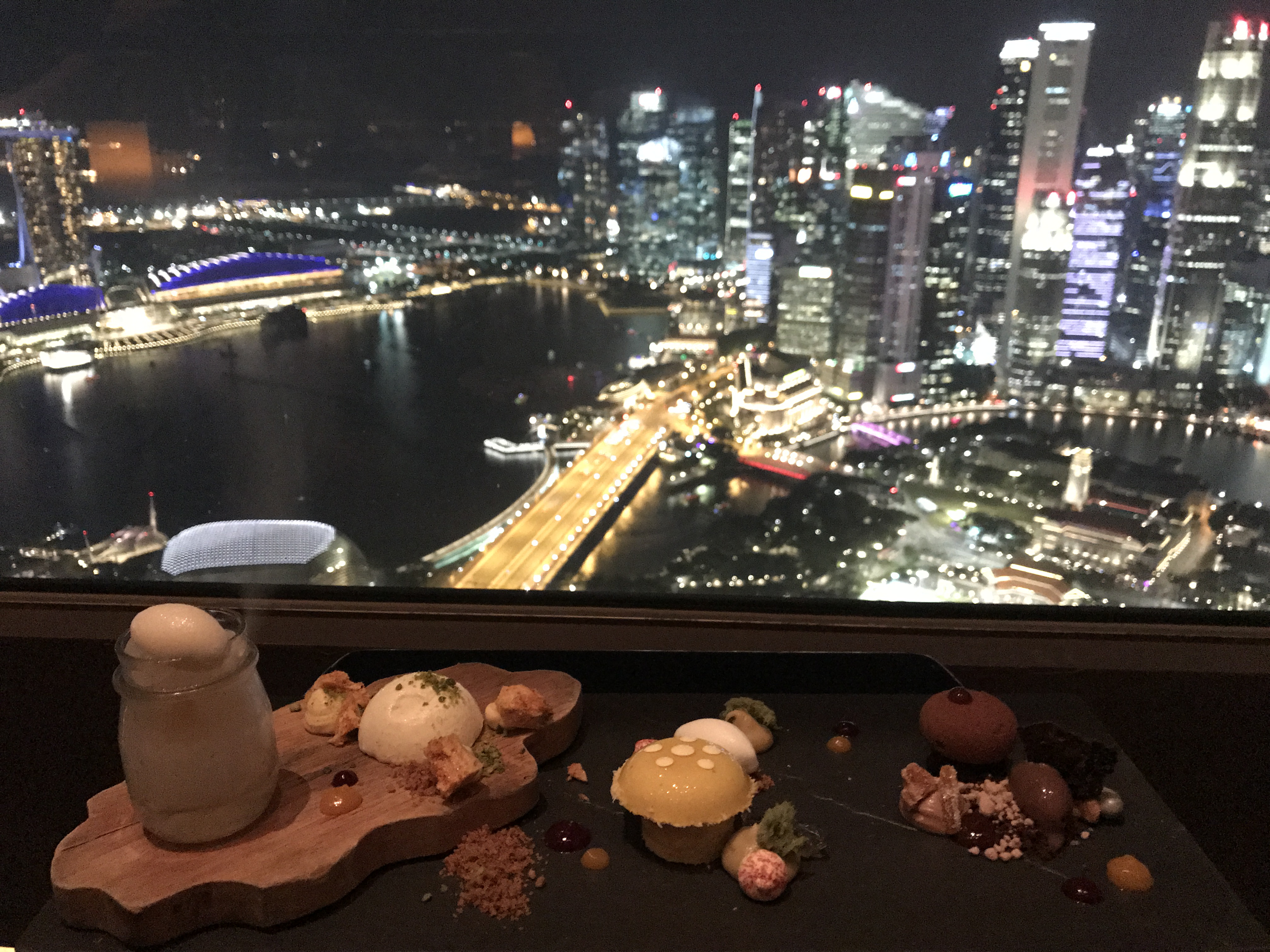 The Champagne Sunday Brunch also features the Moet & Chandon Grand Vintage 2006, notably its fruity and fresh notes, with top notes of mango, banana and peach which later unfolds to an alluring floral note giving it an exquisite yet intriguing taste.
---
ADDRESS:
 2 Stamford Road, Singapore 178882
HOURS OF OPERATION
Weekdays Semi-Buffet Lunch:
Monday to Friday: 12.00 – 14.30
Saturday Semi Lunch Buffet:
12.00 – 14.30
Champagne Sunday Brunch:
12.00 – 15.30
A la carte Dinner:
Daily: 18.00 – 22.30,
3 course set menu at $115++ per person,
5 course set menu at $158++ per person,
Last Seating 22:15. Last order at 22.30.
Pink Vintage Sunday Brunch:
Every Last Sunday Of The Month:
12.00 – 15.30
RESERVATIONS
For online reservations: book now
Phone: +65 6837 3322
Email: reservations@equinoxcomplex.com