Gypsy chef, global citizen and wandering soul, David Myers is based in Los Angeles, but is most often found in his restaurants in Tokyo, Singapore and Hong Kong.
David has trained under some of the world's most renowned chefs, including Charlie Trotter, Gerard Boyer and Daniel Boulud, to hone his palate and his craft. He now draws upon the unique flavours and ingredients discovered in his travels around the world to create an exclusive collection of dining and drinking experiences, each of which offers a varied taste of his unique culinary and personal style.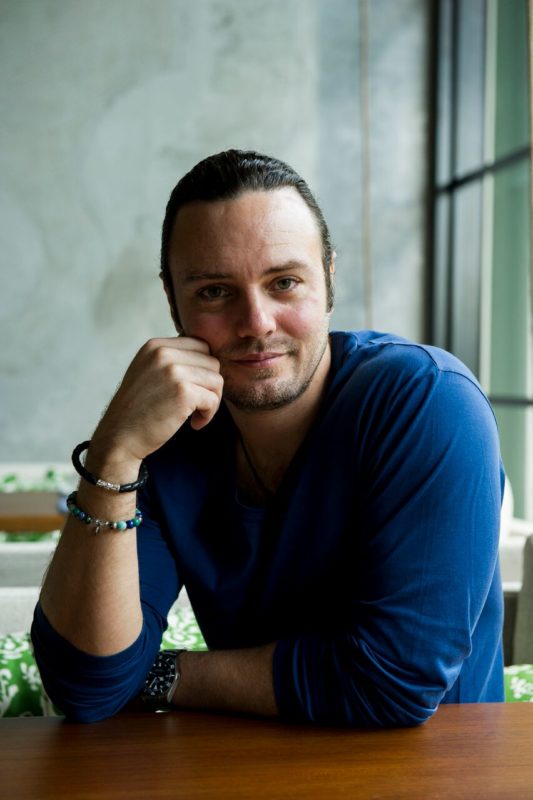 The celebrated chef leads flavour forward restaurant and bar ADRIFT at Marina Bay Sands in Singapore; Salt Water Kitchen in Tokyo and Nagoya; David Myers Café in Tokyo; 72 Degrees Juicery & Café in Tokyo and AnOther Place by David Myers in Hong Kong. His latest projects include Roman style trattoria and pizzeria BASTA!, French farmhouse inspired restaurant Bleu Blanc and next generation mixology bar Poppy at Renaissance Downtown Hotel, Dubai.
His commitment to creativity, harmony and perfection in the kitchen has garnered remarkable success. His former LA flagship restaurant, Sona, was awarded one Michelin star in 2007, 2008 and 2009. ADRIFT was presented the Singapore Tourism Board Award for Best Customer Service for Food & Beverage in 2016. Other past projects include Pizzeria Ortica, Sola, Comme ça and Hinoki & The Bird, all of which have received rave reviews.
1. What is your philosophy when it comes to food?
Simple ingredients, fresh flavours. I love hitting up local markets and restaurants to get inspired and figuring out ways to merge all the exciting flavours with my own style of cooking. We're really excited to introduce the new ADRIFT menu, inspired by our frequent travels around Asia. We want to give our guests a little taste of our favourite experiences, where we enjoyed some of the best food of our lives – take the Prawn Toast with spicy mentaiko mayo, developed from our time eating through the chaotic streets of Bangkok; or the Japanese Eggplant with chicken miso and smoked bonito, our interpretation of the classic Japanese nasu dengaku or miso glazed eggplant.
2. Name your most Favorite dish on the menu? And why?
Together with Adrift's new executive chef Wayne Brown and sous chef Kamarl John, we've created a menu that I would say is one of Adrift's best. If I had to pick a favourite, I'd go with the Glazed Ox Tongue. The staple of yakitori joints is elevated with delicate shavings of sweet sudachi apple, a drizzle of sesame soy and a dash of the wonderfully aromatic pink pepper. It's a perfectly well-balanced dish and the flavours just work so well together.
3. Main considerations when it comes to choosing your ingredients?
I'm a big believer in quality. It's so important to have that fresh produce as a base to create exciting dishes, otherwise it would never work.
4. How do you see the growing demands for sustainable produce affecting the food world?
The idea of sustainable produce is already shaping so much of the culinary world with an increasing number of farm to table menus. It's an important and necessary conversation to have, and for us as chefs, we're in a privileged position because we connect producers and consumers and know best what works and what doesn't. We have a unique role, and sometimes challenge of making the industry more environmentally sustainable, while at the same time not compromising on taste and flavour.
Personally, it's a happy problem as I'm always trying to infuse a local quality to all my restaurants and dishes and love to look for interesting ingredients to incorporate.
5. If you weren't a chef, or in the food business, what would you be?
My childhood ambition was to become a fighter pilot, a lawyer, or anything that involved travel or flying. But if you ask me now, I think I would choose to be an actor – I love film, especially coming from LA.
6. Do you have a memorable food experience that impacted you as a child or young chef?
As a child I was very fortunate to grow up with grandparents who had a very large garden as well as many fruit and nut trees. We literally ate around what was grown in the garden and so I developed a deep appreciation for vegetables that were in season and following the seasons. I think that this experience as a child really has developed me as a chef in understanding how food should taste and what's good and what's not and how to focus on the simplicity and purity of food and ingredients.
We cooked from the garden every single day and very rarely ate out and I actually never missed it. I look back on this with fond memories.
7. What do you enjoy most about being a chef?
I enjoy working with talented people – getting inspired by them and seeing them grow and mature into great chefs and managers. We've got a solid team at Adrift now and I'm excited to see where that will take us in the future.
I also love the process of creating new concepts and seeing them come to fruition and having opportunities to do so in really interesting, beautiful locations. One example is what we're doing in Dubai – we've been working a long time now with the Renaissance Downtown Hotel to launch three new concepts – a Roman-style trattoria and pizzeria BASTA!, French farmhouse-inspired restaurant Bleu Blanc and a wonderful mixology bar Poppy. It's my first time opening a restaurant in the Middle East and it's just one of the things that I am thankful to be able to do and I'm thrilled that it's all coming together so well.
8. Other than creating good food, what are the most important qualities that make a successful chef?
Curiosity, passion and a good attitude. You can never stop learning and never stop wanting to do more. Maintaining a curiosity about new flavours, ingredients, cultures and cuisines helps feed the passion and keeps you excited and inspired to constantly innovate and be better.
9. If you had a choice of anything for your last meal, what would you choose to have?
Dinner at Sushi Shin. It's an amazing restaurant in Tokyo that's truly a one of a kind experience. Everything is well thought out from the vinegar to the handmade sake cups and each dish is perfectly executed and uses only the best ingredients.
10. Do you have any tips for budding chefs or restaurateurs?
Love the job and remember why you love it. The field we have chosen constantly tests our determination, our creative tenacity, and our stamina, but we wouldn't have it any other way. Surround yourself with people who complement your skills and possess the strengths that you do not have and always keep at it – 'no, I can't' should never be an option.
---
ADDRESS:
10 Bayfront Avenue, Hotel Lobby Tower 2, Marina Bay Sands, 018956
PHONE:  6688 5657
WEBSITE: http://www.marinabaysands.com/restaurants/celebrity-chefs/adrift.html