Ever since the last proper Argentinian restaurant closed at ICON Village years ago, there has not been a significant offering from the land of the tango; until the arrival of Bochinche part of the celebrated Spa Esprit group. With a host of positive vibes from many gourmets, expectations are certainly high and diners will not be disappointed with the restaurant's delectable cuisine, innovative drinks and impeccable service located just a stone's throw from Telor Ayer MRT station, on Amoy Street.
Restaurant Manager Alvin Huang welcome guests with gusto and the well trained crew of the restaurant was all attentive and pleasant. Chef de Restaurant, Chef Fabrice Mergelet armed with valuable past experiences in the gastronomic world can be seen gamely bringing out and introducing his signature dishes with beaming pride.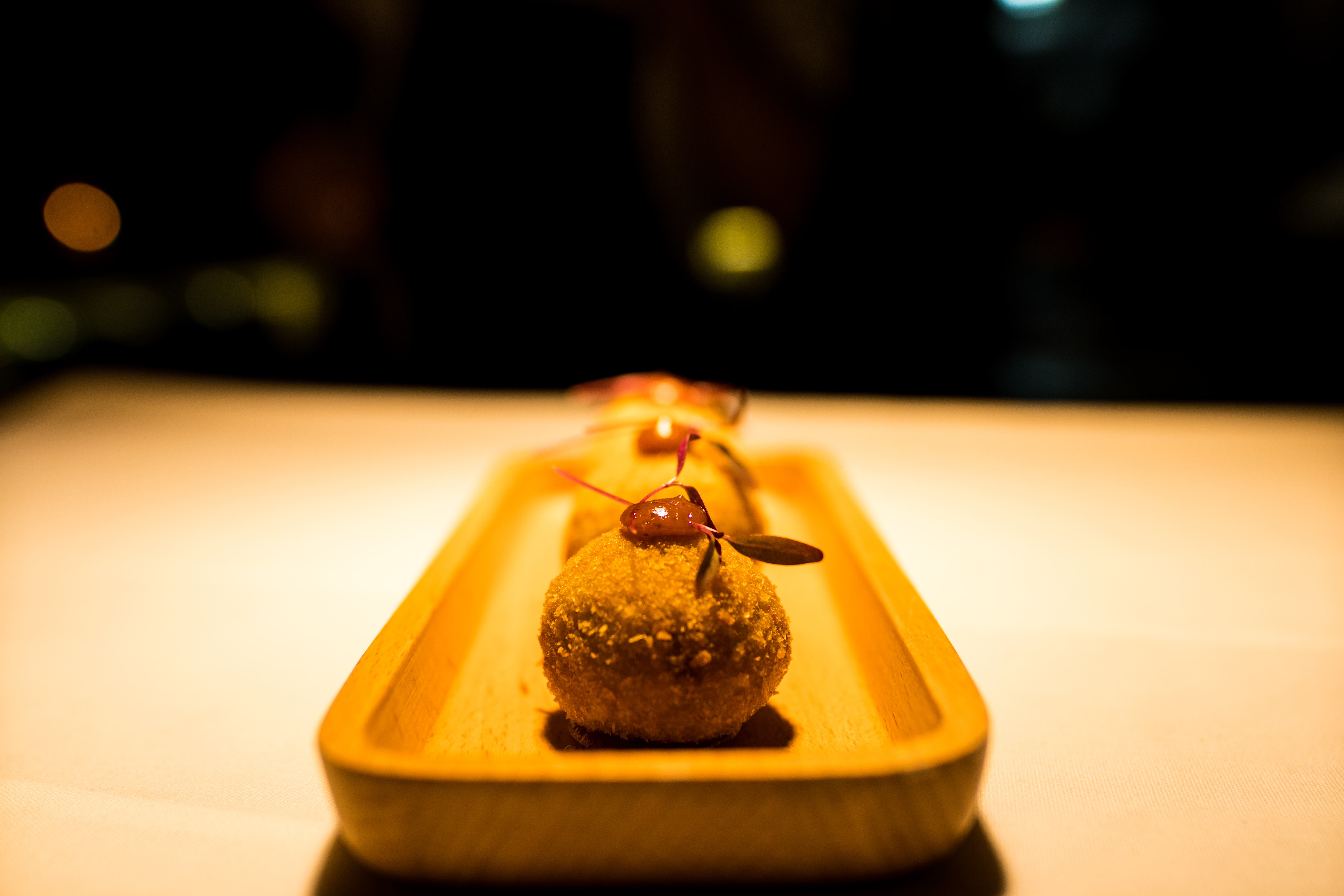 Opening the palates to a series of mouth-watering starters, beginning with "Croquetas" a generously filled creamy chorizo potato mix, with a lesser hint of potato you might find in many other similar croquette offerings and a dollop of hearty tomato chutney and amaranth.
This was followed by the "Tiradito", cobia crudo which came in a busy combination of pomegranate seeds and nuts side of avocado cream causing the taste of the "crude" to linger beautifully.
The subsequent "Crudo de Carne" showed off the result of Chef Fabrice's French background with his four-year stint in Japan, while staying true to an Argentinian base. Technically flawless classic beef tartar preparation with tantalising umeboshi mayo and nasturtium, finish with crispy parnips toppings for that delightful crunch.
"Queso" (which is Spanish for "cheese") was an absolute delight for burata lovers as the central piece was soaked mid-way in tomato water and wrapped lusciously with Iberico 5J ham. This truly opens the appetite for the main courses to come.
The piece de resistance came in the form of "Sirloin on the Bone", which is actually air-flown Australian beef, and this comes highly recommended by Manager Alvin with the medium-bodied house pouring Mendoza red wine going perfectly well with the meat and potato cuts. Dipped in a melange of oregano, terragon and olive oil for added herb aromas and taste.
For meat lovers who are craving for more, the "Asado" – a seductive piece of Argentinian flank steak which is so juicy that it melts in the mouth, right before twirling the cuts in a special mayonnaise of oyster and oxtail. This delectable process should be repeated and it is recommended as the must-have dish here.
The perfect end to the evening must be with "Dulce de Leche", in the form of a crème brulee with a velvety banana split ice cream so delicious one wish they would turn it en masse, selling it in tubs.
Overall, a highly recommended dining experience for those craving for a good steak that is value for money together with Argentinian plates, some given a slight French twist.
---
ADDRESS:
115 Amoy Street, #01-02, 069935
PHONE: +65 6235 4990
WEBSITE: www.bochinche.com.sg/